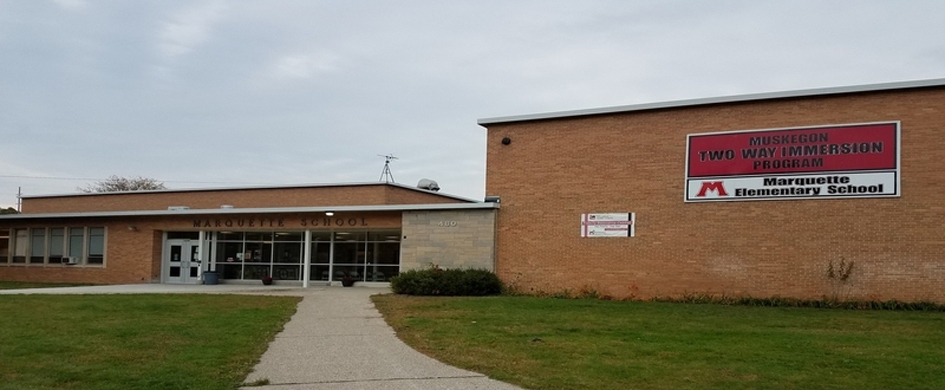 Marquette Elementary
School Hours
Fully Day (Monday, Wednesday, Thursday, Friday)
8:25 am - 3:45 pm
Doors open at 8:15 a.m.
Breakfast is served in the classrooms
Late Start Tuesday
9:45 am - 3:45 pm
Doors Open at 9:35 am
Half Days
8:25 am - 12:00 pm
School Wellness Program
Marquette School Wellness Hours
Monday – Friday:
8 am – 4 pm
Closed daily for lunch from 12:30 pm – 1 pm
Hours of availability vary occasionally due to meetings, late start and school closings.
Make an Appointment
The School Wellness Program provides health screenings, health education, counseling, and other health resources to youth through the care of a School Nurse and a licensed Behavioral Health Provider. A signed parental consent is required for your child to receive most services. The ​School Programs Staff can see patients without ​a parent present as long as there is a signed consent on file. ​They can see your child only once with a ​parent's verbal permission, which can be given over the phone to a Hackley Community Care School Programs staff member​. Please call 231.733.6816 to schedule an appointment
Staff
Karen Theus, RN, School Program Nurse
Kierra Jones, LLMSW, School Program Behavioral Health Consultant
Alejandra Lopez, School Program Receptionist
Joy Evans, School Program Manager
Additional Information
Hackley Community Care School Programs consist of three different models in seven different schools, four of which are in the Muskegon Public School district. The three different models are Teen Health Centers (THCs), School Wellness Programs (SWPs) and Behavioral Health only sites. The School Programs are a model of care for underserved children and youth that increases coordination of medical and behavioral healthcare services. These sites serve as a natural anchor for kids, residents, neighborhoods, and schools.

Hackley Community Care School Programs must abide by all Health Insurance Portability and Accountability Act (HIPAA) laws for privacy and cannot tell school staff why a child has accessed their facility. Health records are not given to school staff without appropriate releases signed by a parent.
Summer Food Program Special Announcement
Hello Big Red Families,
This message contains important information about the summer food service program beginning July 1.  We're required to ask MPS families to register each child for continued home delivery of food through our summer food service program. 

Registration is quick and simple.  

Important change:  families must be available to accept food delivery at door.  There are also pickup options at Muskegon High School on Wednesdays from 12-2 or various parks available Monday - Thursday for both breakfast and lunch.  All options are detailed in the attached letters in both English and Spanish, as well as found on our Website and Facebook page.
New Enrollment Process for 2020-21
IMPORTANT NOTICE
MPS New Student Enrollment Process 
2020-2021 School Year 
Online Enrollment OPENS May 19th!
https://cas.mpsk12.net/cas_MuskegonMI/login
Who Needs to Enroll?
✔New MPS Students
✔Glenside Pre-K  (Must enroll in Kindergarten)
Questions / Special Accommodations?
Contact Brenda Kota, Registrar at (231) 720-2013 or Email bkota@mpsk12.net.
Chromebook Collection - June 16th, 2020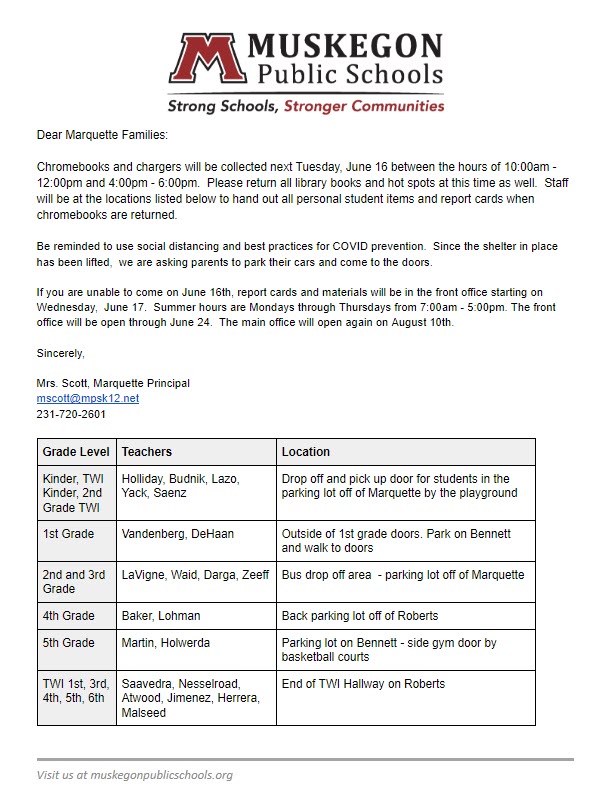 Marquette Elementary School
480 Bennett Street
Muskegon, MI 49442
Phone: 231-720-2600
Fax: 231-720-2658

Mary Scott
Principal

Amado Perez
Assistant Principal