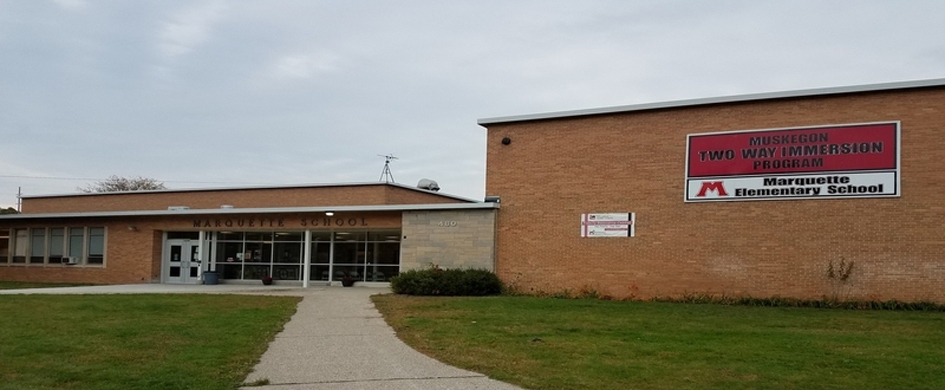 Marquette Elementary
Welcome to the 2020-21 school year! We're looking forward to a great year of learning with our outstanding students!
**Important Notice**
As a result of the current order from the Michigan Department of Health and Human Services, all district offices will be open only from 12:00 - 2:00 PM on Tuesdays and Thursdays until the end of the order (currently 12/8/20). Visitors should report to the main office entrance, and will not be allowed in the building except at designated pick-up/drop-off locations. Please contact your building with questions or for more information.
All grades and programs will be conducted by distance learning from 11/18 until the end of the order. Students are expected to continue daily attendance for all online sessions. Attendance will be tracked daily.
Important Links
Here are key links for students and parents as we go through this time of distance learning:
Student Health Screener (to be submitted each day before coming to school for face-to-face meetings or in-person activities) (Formulario de Detección de Salud Diaria del Estudiante en español)
ClassLink (ClassLink is the login portal to MPS online learning)
Chromebook Login Information
Mailing packets that were sent to all student homes containing complete information about the 2020-21 school year
Click here to access tutorial videos and information designed to assist parents as they help their child use MPS technology.
Absences
If your student is absent, please send a picture of your doctor's note to: acarnes@mpsk12.net
Public Notice--Confirmed and Probable COVID-19 Cases
Click here for information about Marquette Elementary's confirmed and/or probable COVID-19 cases, as well as any reported cases in Muskegon Public Schools.
In accordance with the district's plan, the following actions will take place for each positive case:
The individual(s) in question will be quarantined from work/school until released to return by a healthcare professional.
MPS will work closely with the Health Department to conduct contact tracing. Those individuals who are determined to have been in close contact with the COVID-19 positive individual(s) will be personally contacted by someone from the Health Department or MPS with additional guidance.
Additional information about the district's plan and protocols is available in the COVID-19 response plan documents located on the district's COVID-19 Information page. Access that page by clicking here.
School Wellness Program
Marquette School Wellness Hours
Monday – Friday:
8 am – 4 pm
Closed daily for lunch from 12:30 pm – 1 pm
Hours of availability vary occasionally due to meetings, late start and school closings.
Make an Appointment
The School Wellness Program provides health screenings, health education, counseling, and other health resources to youth through the care of a School Nurse and a licensed Behavioral Health Provider. A signed parental consent is required for your child to receive most services. The ​School Programs Staff can see patients without ​a parent present as long as there is a signed consent on file. ​They can see your child only once with a ​parent's verbal permission, which can be given over the phone to a Hackley Community Care School Programs staff member​. Please call 231.733.6816 to schedule an appointment
Staff
Karen Theus, RN, School Program Nurse
Kierra Jones, LLMSW, School Program Behavioral Health Consultant
Alejandra Lopez, School Program Receptionist
Joy Evans, School Program Manager
Additional Information
Hackley Community Care School Programs consist of three different models in seven different schools, four of which are in the Muskegon Public School district. The three different models are Teen Health Centers (THCs), School Wellness Programs (SWPs) and Behavioral Health only sites. The School Programs are a model of care for underserved children and youth that increases coordination of medical and behavioral healthcare services. These sites serve as a natural anchor for kids, residents, neighborhoods, and schools.

Hackley Community Care School Programs must abide by all Health Insurance Portability and Accountability Act (HIPAA) laws for privacy and cannot tell school staff why a child has accessed their facility. Health records are not given to school staff without appropriate releases signed by a parent.
Title I Annual Parent Meeting (Reunión Anual de Padres)
Virtual Parent Meeting - September 21st, 2020

Please join us! Click here for more information!
Marquette Elementary School
480 Bennett Street
Muskegon, MI 49442
Phone: 231-720-2600
Fax: 231-720-2658
Map

Principal
Mary Scott
Assistant Principal
Amado Perez