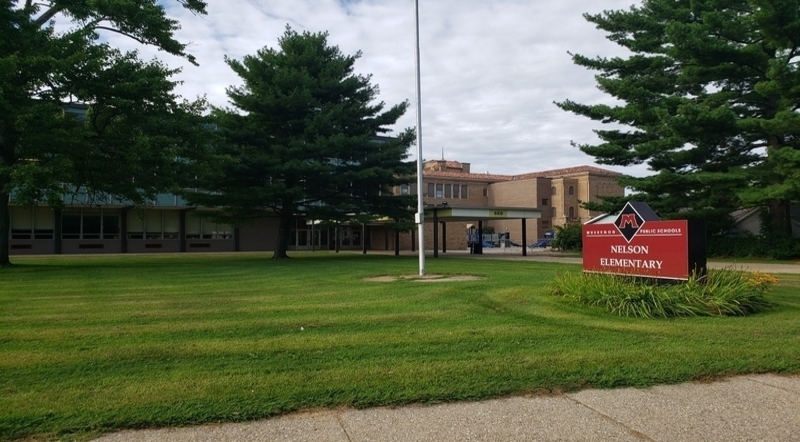 Nelson Elementary
Welcome to Nelson Elementary School!

The mission of Nelson Elementary School is to assure that, within a nurturing and stimulating environment, each of our diverse students achieves literacy and appropriate core competencies, and becomes a responsible, compassionate lifelong learner.
Staff and students show our BIG RED pride by: Believing In Greatness and showing
R= Respect
E= Excellence
D= Dependability
S= Safety
School Hours
Monday, Wednesday, Thursday, Friday
8:25 am – 3:45 pm
Late Start Tuesday
9:45 am – 3:45 pm
Half Days
8:25 am – 12:00 pm

Early Childhood Special Education (ECSE) Hours
Morning Session: 8:30 to 11:40 a.m.
Afternoon Session: 12:25 to 3:35 p.m.
Breakfast and Lunch Menus
March 17, 2020
Internet Options for Families
March 13, 2020
Parent Information Letter from Superintendent Cortez
October 30, 2019
Third Grade Reading Law
Upcoming Events

Closed

Calendar:

Nelson School Calendar

Tue Mar 31 04:00:00 GMT+00:00 2020

Closed

Calendar:

Nelson School Calendar

Wed Apr 01 04:00:00 GMT+00:00 2020

Closed

Calendar:

Nelson School Calendar

Thu Apr 02 04:00:00 GMT+00:00 2020

Closed

Calendar:

Nelson School Calendar

Fri Apr 03 04:00:00 GMT+00:00 2020

Spring Break Begins

Calendar:

Nelson School Calendar

Mon Apr 06 04:00:00 GMT+00:00 2020
Nelson Elementary School
550 W. Grand Ave
Muskegon, MI 49441
Phone: 231-720-2200
Fax: 231-720-2215

Principal
Dr. Brian Gamm