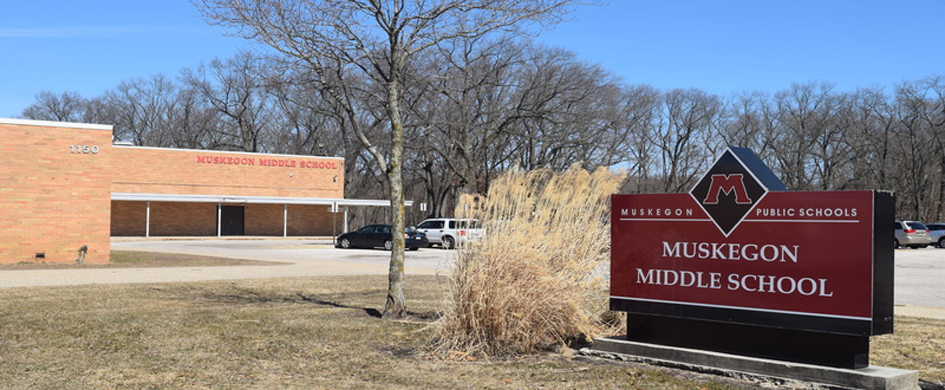 Muskegon Middle School
Mission Statement
The mission of Muskegon Middle School is to develop independent, adaptable, motivated, goal-oriented, academically -prepared and, respectful young adults.
School Hours
Regular School Day (Monday – Friday)
Building Open for Students: 7:15 AM
School Day: 7:45 AM to 2:50 PM
Delayed Start (Tuesdays)
Building Open for Students: 8:25 AM
School Day: 9:00 AM to 2:55 PM
Half Day Schedule
Building Open For Students: 7:05 AM
School Day: 7:45 AM to 11:25 AM
Breakfast and Lunch Menus
Student and Parent Resources
6/15/2020
Summer Food Program Special Announcement
Hello Big Red Families,
This message contains important information about the summer food service program beginning July 1.  We're required to ask MPS families to register each child for continued home delivery of food through our summer food service program. 

Registration is quick and simple.  

Important change:  families must be available to accept food delivery at door.  There are also pickup options at Muskegon High School on Wednesdays from 12-2 or various parks available Monday - Thursday for both breakfast and lunch.  All options are detailed in the attached letters in both English and Spanish, as well as found on our Website and Facebook page.
May 19, 2020
New Enrollment Process for 2020-21
IMPORTANT NOTICE
MPS New Student Enrollment Process 
2020-2021 School Year 
Online Enrollment OPENS May 19th!
https://cas.mpsk12.net/cas_MuskegonMI/login
Who Needs to Enroll?
✔New MPS Students
✔Glenside Pre-K  (Must enroll in Kindergarten)
Questions / Special Accommodations?
Contact Brenda Kota, Registrar at (231) 720-2013 or Email bkota@mpsk12.net.
Muskegon Middle School
1150 Amity Avenue
Muskegon, MI 49442
Main Office: (231) 720-3000
Fax: (231) 720-3025

Principal
Paul Kurdziel
Vice Principal
Marie Williams
Angela Johnson
Mrs. Hansen's Online Counseling Appointment Calendar


Mr. Wickland's Social-Emotional Appointment Calendar

Mrs. Wheeler's Social-Emotional Appointment Calendar